A day spent eating in Catania
Traveling, exploring, visiting unknown places are all activities that, throughout history, have been considered "food for thought" .The traveler broadens his horizons and opens his mind to new ideas while walking the path of knowledge… then it's lunch time, at that point the only knowledge he's interested in is the culinary one.
We will now accompany you on a culinary tour de force, 24 hours of good food that we advise you to try during your vacation (if you manage to!)
BREAKFAST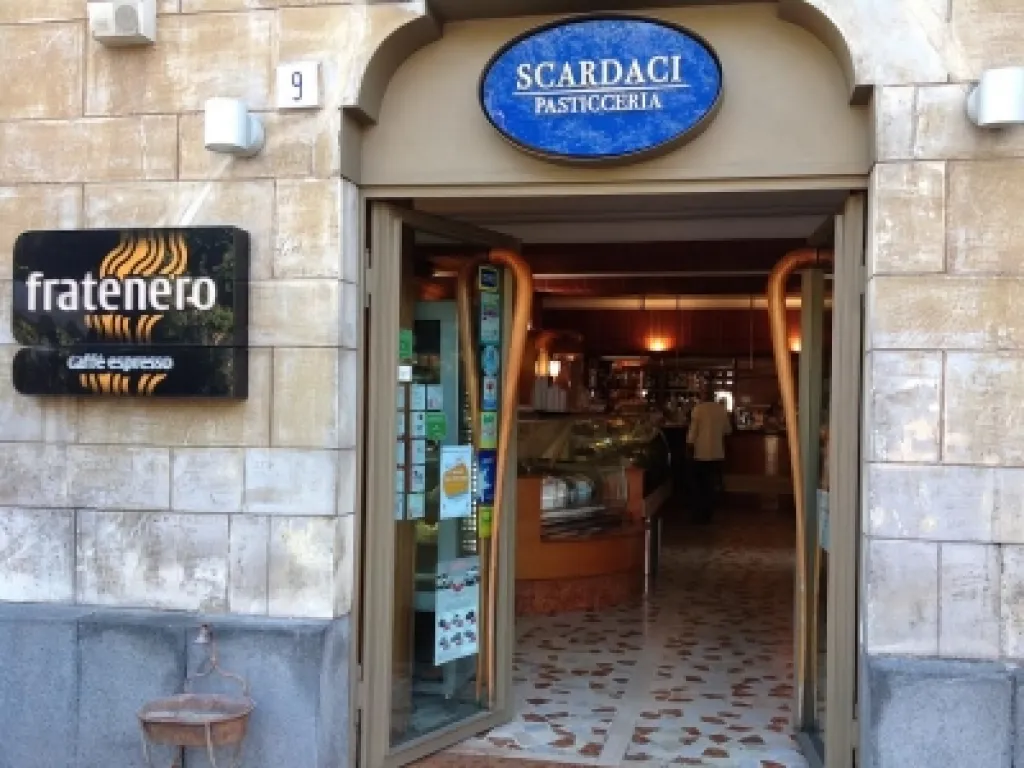 Here you are, early morning, ready to explore Catania. You need to have a nice breakfast in order to enjoy your day. Is breakfast not included in your B&B booking? No problem! Catania is full of nice cafés where you can choose between sweet and savory.
We decide to have a croissant at "Bar Scardaci" in Via Santa Maddalena 69, right behind Villa Bellini. Outdoor seats are great during summer, if you prefer a classical but well kept interior design, you'll get comfortable inside. Italian cappuccino is a must , but if you're in a hurry it's better to have a coffee (short, Italian style, we don't like the mash called coffee abroad). If your stomach is ready in the morning a nice "cipollina" is great to start your day.
MORNING SNACK
You've walked a lot, you've visited churches and museums and you've already digested your breakfast. You need a snack! We move towards the seaside and stop at one of the most famous cafés of the area, perhaps of Catania. We are at "Caffé Ernesto" in Viale Ruggero di Lauria 91. With the sea as a view and the wind blowing we must have a nice ice cream. There are so many flavors and combinations: ice cream cones, sundaes, everything with whipped cream and various toppings! For those who want something savory , this might be the perfect occasion to try a "siciliana" or a "pizzetta", just to keep it light! (haha)
LUNCH
It's the most forgotten meal by tourists. Rushing to catch the bus and queuing at the museum, often times tourists forget to have lunch and settle with a sandwich. But in Catania every meal is sacred so let's go and look for something nice to have. Sicily, as an island, is full of restaurants that serve delicious fish. We go for "Osteria Antica Marina", right inside the fish market. It's a typical trattoria which, and it couldn't be any different, serves everyday delicious fresh fish, numerous starters, first and second courses. Their cuisine is delicious and the market experience magical. For those who don't eat fish, we have "Il Borgo di Federico", in Piazza Federico di Svevia, near Ursino Castle, where you can eat every kind of meat dish, especially the famous horse meat meatballs and cutlets (but they obviously have other kinds of meat too). The starters buffet is big and varied and the prices are definitely affordable.
AFTERNOON SNACK
It's already afternoon! It's too early to go to a restaurant (Sicilians do everything slowly, having dinner at 8 p.m. is just not for us), so we go and do something typically northern : "l'aperitivo". Sicilians love their habits but they also love to try new dishes and to have new experiences. The aperitif is still a Sicilian one, so don't expect just a salad and canapés! We go to Famì, a brand new place in the city center, Via San Giuliano 225, where we can taste cold cuts and cheese, served with biological jams, cherry tomatoes and marinated mushrooms together with some fresh bread, everything for just 8 euro! Everything is obviously accompanied by a nice glass of regional wine, red or white, as you prefer.
DINNER
For dinner we relax a little bit and we go and try the real pizza, the one we make only in Italy. Catania is full of top-notch pizzerias, from the seaside to the volcano, for all tastes! With a little exception in our culinary tour, we recommend three instead of one, so that you can choose according to your taste!
In Via Gisira 62 you'll find "Gisira Pizza and Drinks" an informal place with a long menu in which you'll find the original "pizza al metro": three different flavors in a one-meter pizza, for every palate! You'll find a great variety of beers and a swift service that will complete the picture of this nice place in the center (You'll be near the Ostello, a place in which many young people have a drink, and where you'll be able to see the Amenano river very closely).
Near Piazza Stesicoro, in via del Colosseo 5, you'll be able to look at one of the biggest pizzas you have seen in your whole life at "Il Vicolo Pizza & Vino". This place has been growing constantly in the last two years and it serves one of the best pizzas of Catania, in a typically Italian alley. If you choose this pizzeria, though, think about it in advance: waiting times are really long, especially in the weekend.
The best pizza of the area, according to us, is served at "Acido Lattico", in Via Umberto 314, a place that has always served high-quality pizza (even when it was located in Acicastello, far from the city center), their ingredients are fresh and well-balanced. It also offers hamburgers and second courses, who undoubtedly deserve a second try.
AFTER DINNER
We are full, we've eaten so much that we need something to digest everything. It's the perfect time to have a beer! We stay in the city center and we go to the "Hoppe Beer Shop", in via Caraci 21, a Via Etneas cross street. It's a small but welcoming place in which you will find many different beers from a lot of different countries (Belgium, Germany, Holland, Italy etc…) so that you can try a little bit of everything.
NIGHT SNACK
…are you still there? It's time for the last meal of the day: the midnight snack! That moment when your stomach gives you one final signal, it's rumbling before sleep. Among the various choices, the most central one is definitely "Etoile D'or", an important café behind the cathedral, almost in Piazza Alcalà. Here you will find anything that will please your taste, from sweet to savory, 24/7. But after the last bite of ricotta-filled "raviola" or "arancino" it's time to rest: tomorrow is another vacation day in Catania!